This girl must have needed sleep. I woke up at 10:15 this morning and it felt wonderful! Just in time for Pioneer Woman on Food Network. She made strip steak sandwiches, which I have made for the farmer and I. They are delicious if you are a steak sandwich kinda gal. I added some Swiss cheese which made them a little more fattening, but great. Here's a link to the recipe :)
The Marlboro Man Sandwich
In other food news, I made two new discoveries this week that I love!
This little bag of red potatoes is so cute and it's just enough for the farmer and I. You can boil them or microwave them (I microwaved) and you don't have to buy a large bag of potatoes.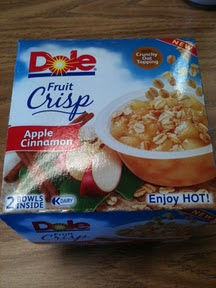 I saw these in Walmart this week and took them for lunch this week and loved them! I bought Apple Cinnamon, but other flavors include Apple Pear and Pineapple Mango. You heat up the fruit bowl and then add the crisp and you have a quick little fruit crisp! I will definitely add these to my grocery list again :)
I must get back to a day of productiveness! Sprayed the weed infested flower beds and have worked on a wreath for a friend...now to clean out for a garage sale. Not sure what's wrong with my lazy Saturday self!
- Posted using BlogPress from my iPhone